Star-singer Aima Baig has landed herself in hot water as her name has emerged in a cheating scandal.
Baig has been accused of cheating on her fiancé Shahbaz Shigri with Qes Ahmed by British model Taloulah Mair.
The Sajna Door crooner recently announced that she and Shigri have parted ways a year after their engagement. Following which, Mair took to Instagram to accuse Baig of being involved with her ex Ahmed while she was engaged to Shigri.
Now Aima has broken her silence on the controversy in a series of Instagram stories.
"Bol liya aap sab nay? Karlia bully ya abhi bhi or thora rehta ha to wo bhi karlain. [Have you all said your peace? Have you bullied me enough or have you still got some more left to do, go ahead and do it.] Without even knowing the entire truth. Ab main thora sa kuch boloun [now can I say a little something]?" she asked in a series of Instagram stories posted on Wednesday evening.
Her comments come soon after claims made by a British model named Taloulah Mair that Baig was involved with her ex-boyfriend, photographer Qes Ahmed.
"Although I did left a very respectful statement to put an end to this whole situation. But some people wants to stay [quiet because] they know how many more ugly things would come out, not just about them, but about their families too. I still want to keep up with that respect that I gave to these people. In fact to this one person and family because 'that is not how my upbringing is'," she wrote. Baig posted a statement announcing her breakup with Shigri on Instagram on September 17 but deleted it soon after.
"I don't and can't make fun of people who are deceased or how they used their significant other and then acted as if they are the victim. People who know this person personally… have nothing to say about this matter since they knew the truth way before y'all got aware of it. And trust me they know why it happened," wrote the singer.
"Whatever happened, I've been going through some major trauma, depression right now because people don't know what actually happened. And these extras who just want some followers and money…please give them that so they can move on with their lives," she said, referring to an account that made claims about Baig's relationship. "I'm not someone who fire up the situation by only showing parts to the people that would help them play the victim card. I'm not even going to talk about some random extras in my story since they don't have families they care about or even dignity to accept who they really are as much as I enjoy memes but this whole thing is beyond funny."
Calling the situation "straight up bullying and targeting people", Baig said, "In these past couple of days I kept wondering… how can people believe or any sane person would believe in these accusations by some random people who are only looking for few followers without even knowing the actual truth and the real story behind it?"
In her next story, she asked people for recommendations for a "good doctor".
"I need to send it to someone who badly needs it. Saath thoray say paisay bhi otherwise apkay sath bhi wohi hoga jo meray sath hua [along with it, send some money otherwise what happened to me will happen to you too] if you know you know…"
She stressed that such medical conditions are "real". "Even when these patients are doing the same, oh no way! Not the same. But way more worse things than you… they start to live in their own reality. Just like some movie or sh*t. Because aap log aisay logo ki help karnay k bajaye unko aur hype detay hain [because you people hype them up instead of helping people like this]. Which leads to some serious damage for their own health," she said.
"PS I'm no some doc or whatever. But my sister surely is. So I have got facts. Whereas I am just your very own baazi girl who only knows how to entertain people with her art of singing."
In a third story, she referred directly to the videos posted by Mair and said she "knowingly bleep[ed] certain words and only posted half the video".
She also claimed she was being "told what to say on that videos over texts and even her boyfriend knows that".
Prior to Aima, Qes also issued an official statement on the matter.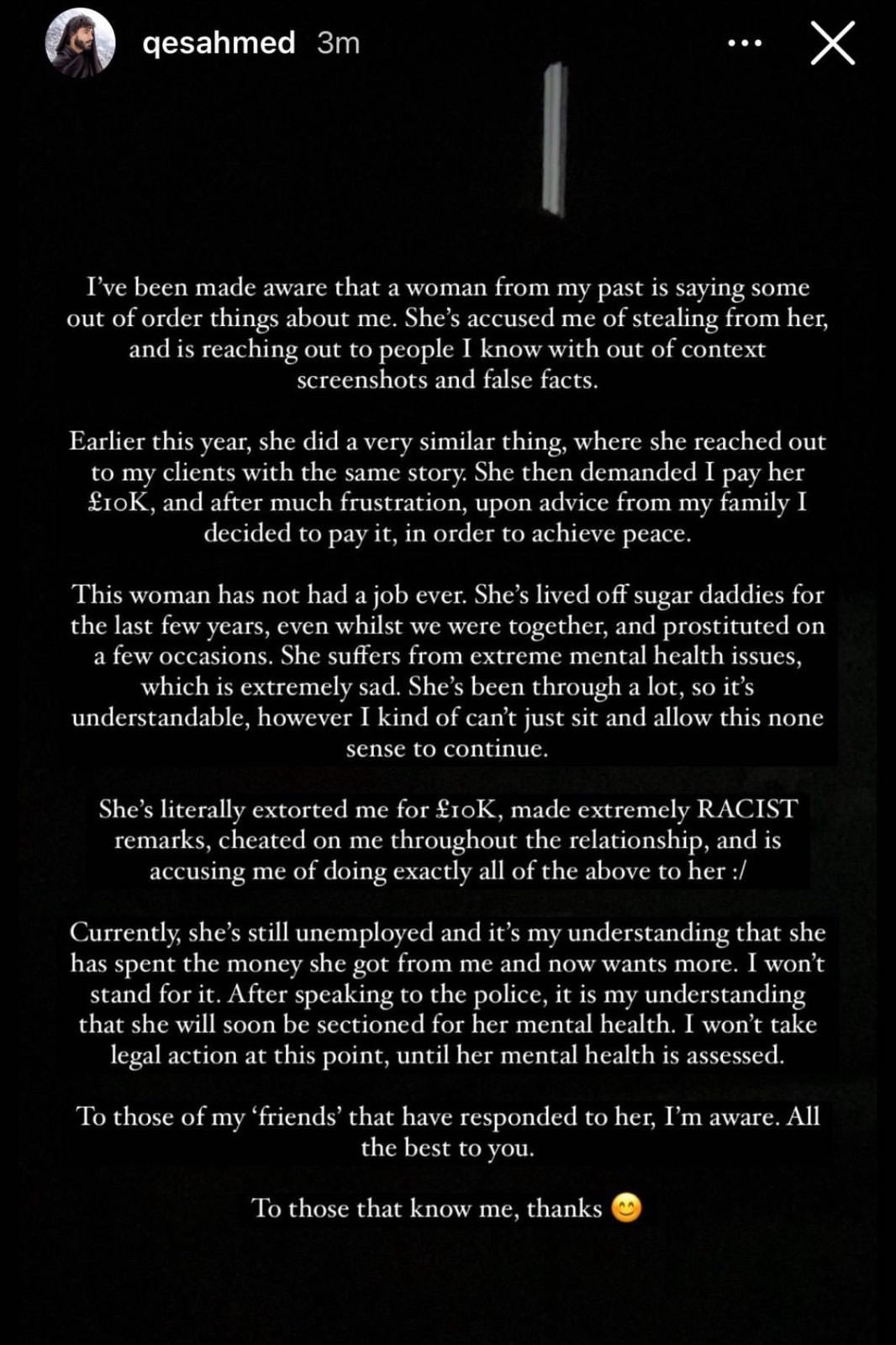 "I've been made aware that a woman from my past has been saying some out-of-order things about me. She's accused me of stealing from her and is reaching out to people I know without context screenshots and false facts," he wrote. "Earlier this year, she did a very similar thing where she reached out to my clients with the same story. She then demanded I pay her 10,000 Euros and after much frustration upon advice from my family, I decide to pay it in order to achieve peace."
Ahmed went on to accuse Mair and added, "This woman has not had a job ever. She's lived off of sugar daddies for the last few years, even whilst we were together." He commented how Mair suffers from "severe mental health issues, which is extremely sad." Ahmed further shared, "She's been through a lot so it's understandable, however, I can't just sit and allow this nonsense to continue. She's literally extorted me for 10,000 Euros, made extremely racist remarks, cheated on me throughout the relationship and is accusing me of doing exactly all of the above to her."
Accusing how Mair is currently unemployed and has spent the money she had 'gotten from Ahmed', he penned, "I won't stand for it. I won't take legal action at this point until her mental health is assessed."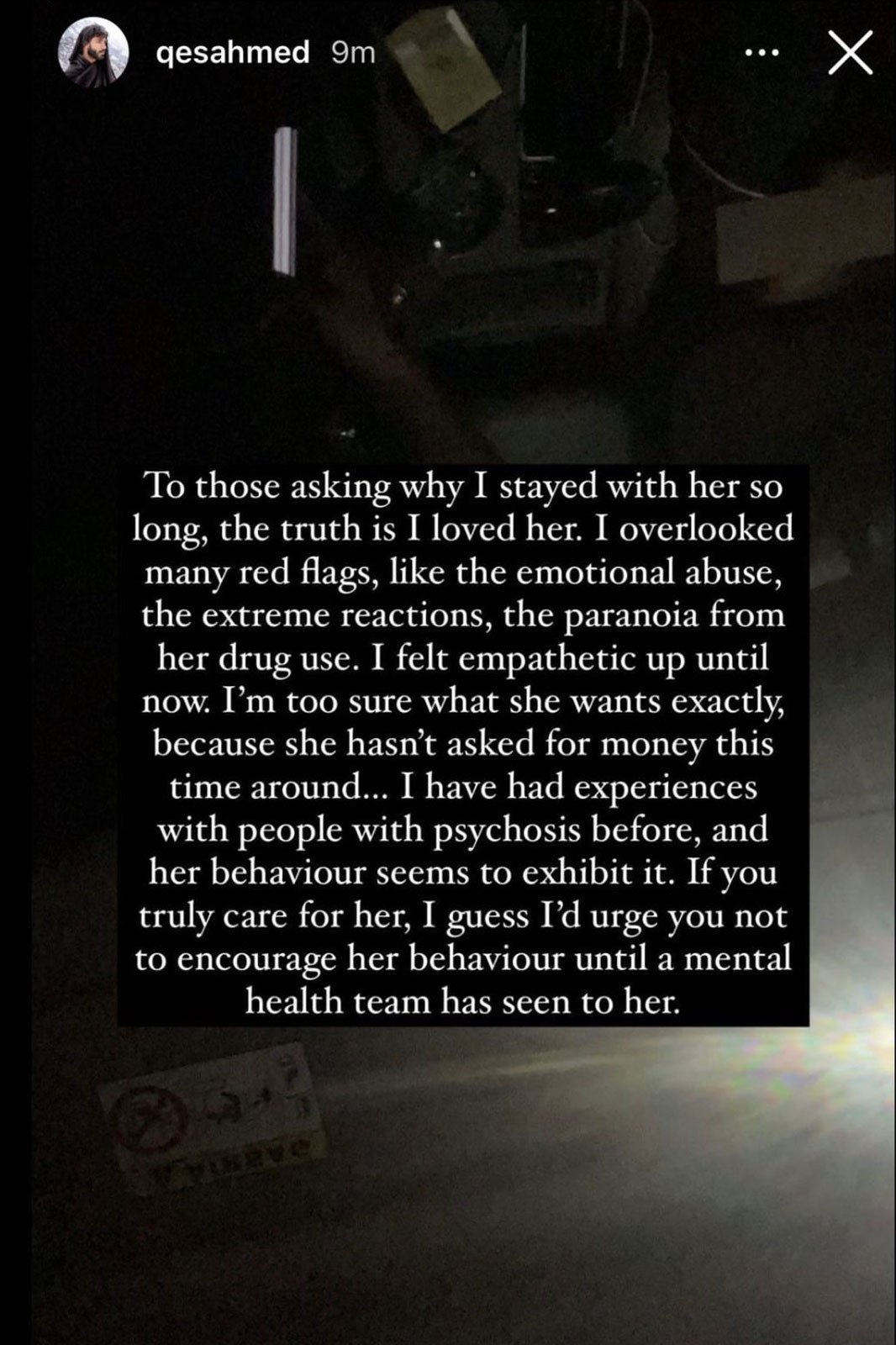 In another Instagram story, Ahmed wrote, "To those asking why I stayed with her [Mair] for so long, the truth is I loved her. I overlooked many red flags, like the emotional abuse, the extreme reactions, and the paranoia from her drug use. I felt empathetic up until now. I'm too sure what she wants exactly because she hasn't asked for money this time around. I have had experiences with people with psychosis before and her behaviour seems to exhibit it. If you truly care for her, I guess I'd urge you to not encourage her behaviour until a mental health team has seen to her."
Shigri is yet to comment on the matter.
The model made some serious allegations against the singer referring to her as "one of the famous women of Pakistan."
Taloulah also shared a video recording of Aima with Qes as a proof.
Netizens are mercilessly trolling Aima on social media. She has also been trending on twitter at the top since last night.
Mair said in her stories that she was in a relationship with a Pakistani filmmaker (Ahmed) who cheated on her with Baig.
She added that Ahmed told her about his deceit while gloating that he is dating one of the well-known singers of Pakistan.
Mair went on to further accuse Baig of spending a holiday together with Ahmed in Dubai while adding that the singer bought the plane ticket for Ahmed as well.
She alleged that Ahmed not only stole money from her and but also from some other "Pakistani" girls, who he was involved with, and the amount constitutes to £20,000.
In a Q/A session, someone asked Mair how she was so sure that Baig was engaged when she was dating Ahmed.
In response to which, she attached a screenshot of a conversation with Shigri in which he asked the model to send him screen-grabs proving Baig's infidelity.
Mair also accused Aima of getting her account suspended on Instagram.
After Aima shared her side of the story, fellow female artists like Mathira and Anoushey Ashraf extended support to her.
Anoushey shared that she's saddened by the trolling that Baig became a victim of.
Mathira shared her disappointment on the cyber vilification of Aima. She also stated that Taloulah and Qes did this for publicity.
Post the celebrity reactions, both Aima and Taloulah shared new screenshots, while dwelling deeper on the matter.
Mair shared a screenshot, showing that Baig called her four times on WhatsApp. According to Taloulah, Aima wanted to convince her to not reveal more details.
On the contrary, Aima showed the last message that she sent to Mair on WhatsApp.
The Balma Baghora diva has spoken her heart out in another Instagram story. She also expressed her concern on the misuse of internet which results into a toxic atmosphere for women.