Instagram blogger @karachista1, on Tuesday, uploaded a story sharing several screenshots of conversations and images showing passengers' items being confiscated at the Karachi and Lahore airport. Several social media users including lawyer Abdul Moiz Jaffery and actor and comedian Shafaat Ali, complained on Twitter about this being a 'draconian step'.
The complaints ranged from AC Customs confiscating their private goods and others complaining that their bags were opened and imported items removed before they even landed in Karachi. Conflicting reports came forward with others reporting that they went through nothing like this. For some, only expensive makeup was confiscated and for others even biscuits and chocolates were not spared. Some customers were given receipts and some were not even informed.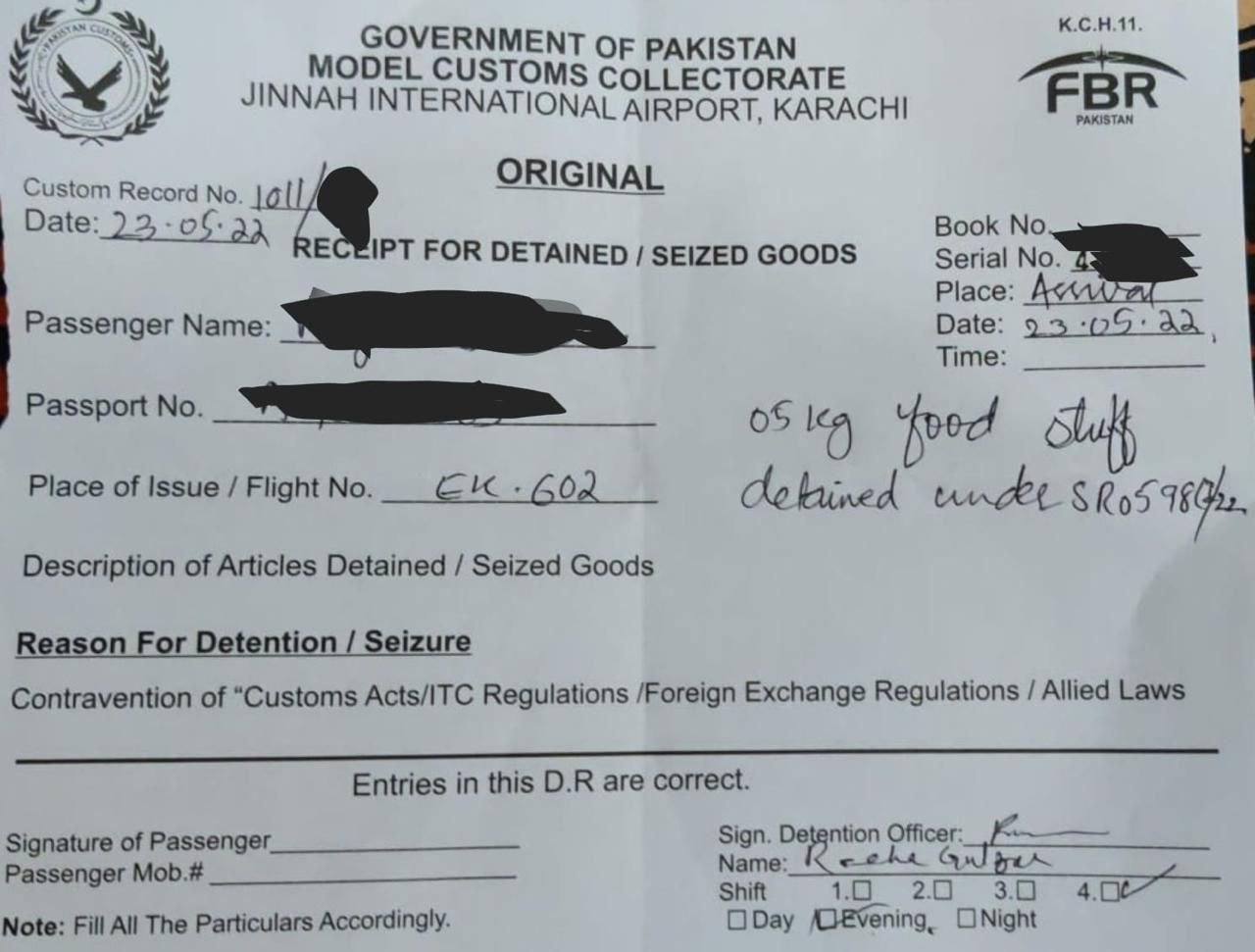 So does this mean that if you plan on going abroad for a vacation this summer and want to bring back some goods for your family, you will not be allowed to take them from the airport? Pretty much.
We spoke to Irshad Gul, a Karachi businessman who regularly imports and exports items for his businesses. According to him, using passengers to bring back imported goods is usually considered an easy method of bringing imported items inside the country without paying any duty. He confirms that at the Karachi airport, Customs officers have become extremely vigilant, looking into all luggage bags and hand carries to scavenge for imported items. Large quantities of a single item like chocolates might be confiscated and you have to pay customs on them, but if you have a personal, small amount of chocolates, those should be allowed to go through. If you are planning to bring back some gifts from your vacation abroad, consider carrying only a few items which you can explain very well.
The irregularity in people's online reported experiences only shows the usual inconsistency in Pakistani bureaucracy. A short while ago, Finance Minister Miftah Ismail tweeted an explanation for the airport and Customs staff's behavior, clarifying that these steps are being taken to counter the smuggling of the banned items by professional packers. Although Ismail claims that ordinary citizens with a few items will not be harassed but citizens are reporting that even a few personal makeup items are being confiscated. Others say they were allowed to leave the airport unscathed.
Finance Minister Miftah Ismail attached this official notice with his tweet, clarifying that all steps being taken by the airport staff are in accordance with government directive and compliance is necessary. Confiscated items include 'food stuff, fruits, sanitary ware, used mobile phones and branded shoes'.
Several Twitter users including Shafaat Ali requested Miftah Ismail to take action as they believe personal products should be allowed and only commercial consignments should be subjected to these limitations.