Actor Feroze Khan took to his Instagram stories to take a dig at vice president of PML-N, Maryam Nawaz. The Tich Button star shared a statement of Maryam in which she is referring to former President Asif Ali Zardari as "Naik seerat and Paak Daman."
Feroze stated, "Mujhe baksh dey yaar."
Recently he complimented former Prime Minister Imran Khan's physical appearance. The Habs star termed Imran as a "sexy beast" by attaching an old interview of PTI chairman.
The Khaani hero also shared a rare interview of Khan.
The Khuda Aur Mohabbat 3 hero has often expressed his support for PTI and Imran Khan.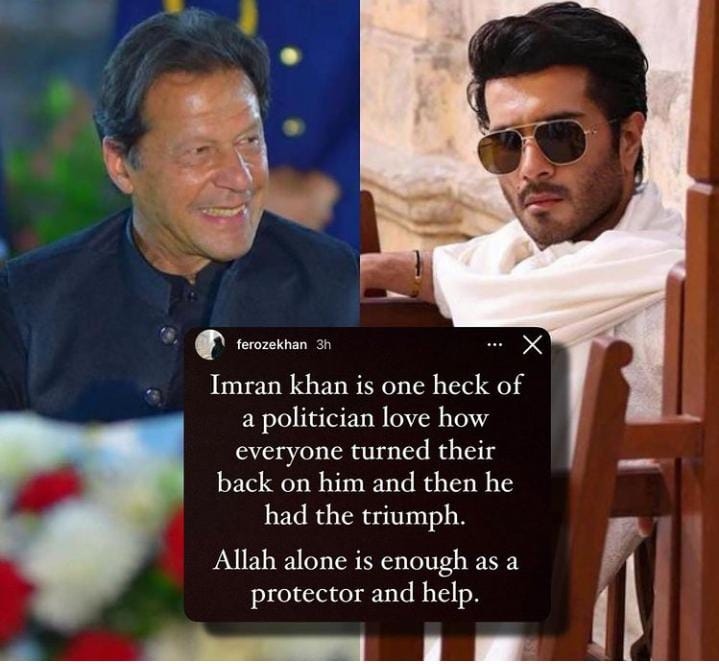 Recently when Pakistan People's Party (PPP) Chairman Bilawal Bhutto Zardari said on Wednesday that he was forced into politics at a young age. "I didn't choose this life, it chose me," said Bilawal in interview with CNN's Becky Anderson.
After this interview of his went viral, Feroze termed him as a cartoon.
Actress Mathira was quick to slam him for his derogatory remarks for the young politician. Taking to her Instagram stories, the Blind Love star called out the Khuda Aur Mohabbat 3 hero for bully labeling Bilawal as 'cartoon'. She added that its a very mean thing to say to anyone.
Mathira concluded by saying that Bilawal is different but he's the best.
Recently when Writer and former journalist, Reham Khan shared a video with PML-N leaders, in which the Janaan producer can be seen saying to Imran Khan, "Kidhar hai Niazi? Dar gaya kya?", Feroze and Adeel Chaudhry slammed Reham for the video.
While the Gul-e-Rana star termed her as 'snake', Adeel claimed that she is a horrible person.