United States (US) Deputy Secretary of State Wendy R Sherman, following her visit to India, received a cold reception upon her arrival in Islamabad as per The News.
She was welcomed by a mid-level diplomat, instead of her counterpart, Foreign Secretary Sohail Mehmood.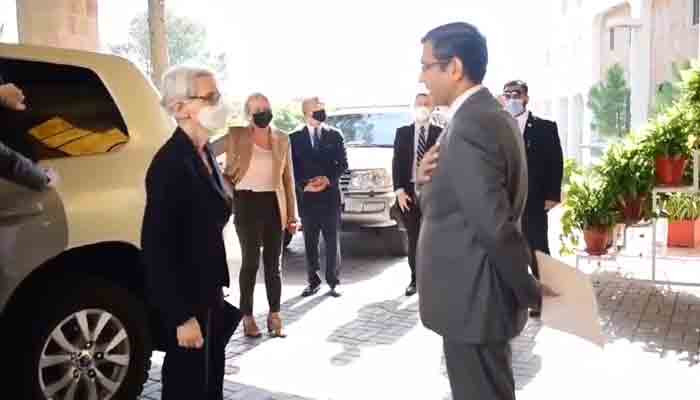 Before coming to Pakistan, Sherman in Mumbai had made it very clear that the US was not interested in a broad relationship with Pakistan, beyond Afghanistan.
She stated, "My visit to Pakistan is for a very specific narrow purpose and the United States does not see itself building a broad relationship with Pakistan and we have no interest in returning to days of hyphenated [India and Pakistan]. That is not where we are. That is not where we're going to be."
"My visit to Pakistan in the context of Afghanistan is in a bid to make sure that Pakistan has the capabilities to ensure everybody's security, including India's and the US", she said as she left India.
According to The News, the government was shocked at Sherman's undiplomatic statements that she had made in India.
Sherman met with the National Security Adviser (NSA) Moeed Yusuf where he stressed that the world "must maintain contact" with the interim Taliban government in Afghanistan.
Furthermore, Yusuf blatantly said that Indian human rights violations in Indian Illegally Occupied Jammu and Kashmir (IIOJK) also pose a threat to regional peace.
Foreign Minister (FM) Shah Mahmood Qureshi met the Deputy Secretary on Thursday but he didn't tweet about the meeting. However, Sherman tweeted, "I met today with Pakistan FM to discuss Afghanistan's future and the important and long-standing US-Pakistan relationship. We look forward to continuing to address pressing regional and global challenges."
Sherman also met Chief of the Army Staff (COAS) General Qamar Javed Bajwa where matters of mutual interest, regional security situation, and collaboration in humanitarian measures in Afghanistan were discussed.
Apart from the meetings, while talking to The News' editors, Sherman said she believed US President Joe Biden will soon talk to Prime Minister (PM) Imran Khan. She said, "We have an idea that every country wants to have a telephone conversation with US President. I am sure that this conversation will be held with PM Khan soon."
"I am sure that this contact will take place soon, so I don't think it should mean anything else," she added.
Moreover, while replying to a question about a bill presented in September by 22 Republican senators targeting Pakistan, Sherman assured, "We get hundreds of bills; thousands of people are behind them but we are well aware of Pakistan's concerns and are closely looking at the situation."