Trailers of feature films; Zarrar and Yaara Vey came out earlier this year, creating anticipation among the film buffs in Pakistan. However, the theatrical release of both these films had been previously delayed several times due to the pandemic.  
'Zarrar' is written and directed by its lead actor, Shaan Shahid. The film's first teaser was released in 2020 after a long wait and last month, the star announced the release date on social media.
The film is an action-packed spy thriller based on an ISI agent who is on a mission to "eliminate the foreign threats to the country even before they happen". Apart from Shaan, the movie stars Nadeem Baig, Kiran Malik, Nayyar Ejaz, Rashid Naz, and Shafqat Cheema. 
However, the makers have now confirmed that the movie has been postponed due to the recent devastating floods in the country and the new release date is 25th November. 
Similarly, Yaara Vey starring Sami Khan, Aleeze Nasser, Faizan Khawaja, Jawed Shaikh, Marina Khan and Ali Sikander was initially supposed to premiere in 2020, however, due to the pandemic, the makers had been pushing the release date. 
Beeline Productions released the trailer and introduced the plot in the caption saying: "Triangles are always messy and the one between the disciplined Sania, played by Aleeze, the gentle Armaan, played by Faizan and the maverick Samir, played by Sami was more than she bargained for. Sania's journey from Dubai to Thailand to Georgia and back again changed her in ways she couldn't have imagined. But life had yet another curveball to throw her way; one that threatened everything she knew to be true".
The trailer follows a love triangle between the three characters with a lot of conflict and romance. It is directed by Manish Pawar and was set to release on 16th September.
Sami Khan confirmed the news by stating, "The movie was going to be delayed anyway because 17th September is the Chelum day, hence out of respect the producers and distributors had decided to change the date. Additionally, because of the destruction caused by the floods, this isn't the right time to release a movie. Our focus should be on helping the ones in need."
He further added that the updated release date will be announced soon and the tentative months are either November or December this year. 
Last month, veteran actor Marina Khan took to Instagram to shame the producers of Yaara Vey.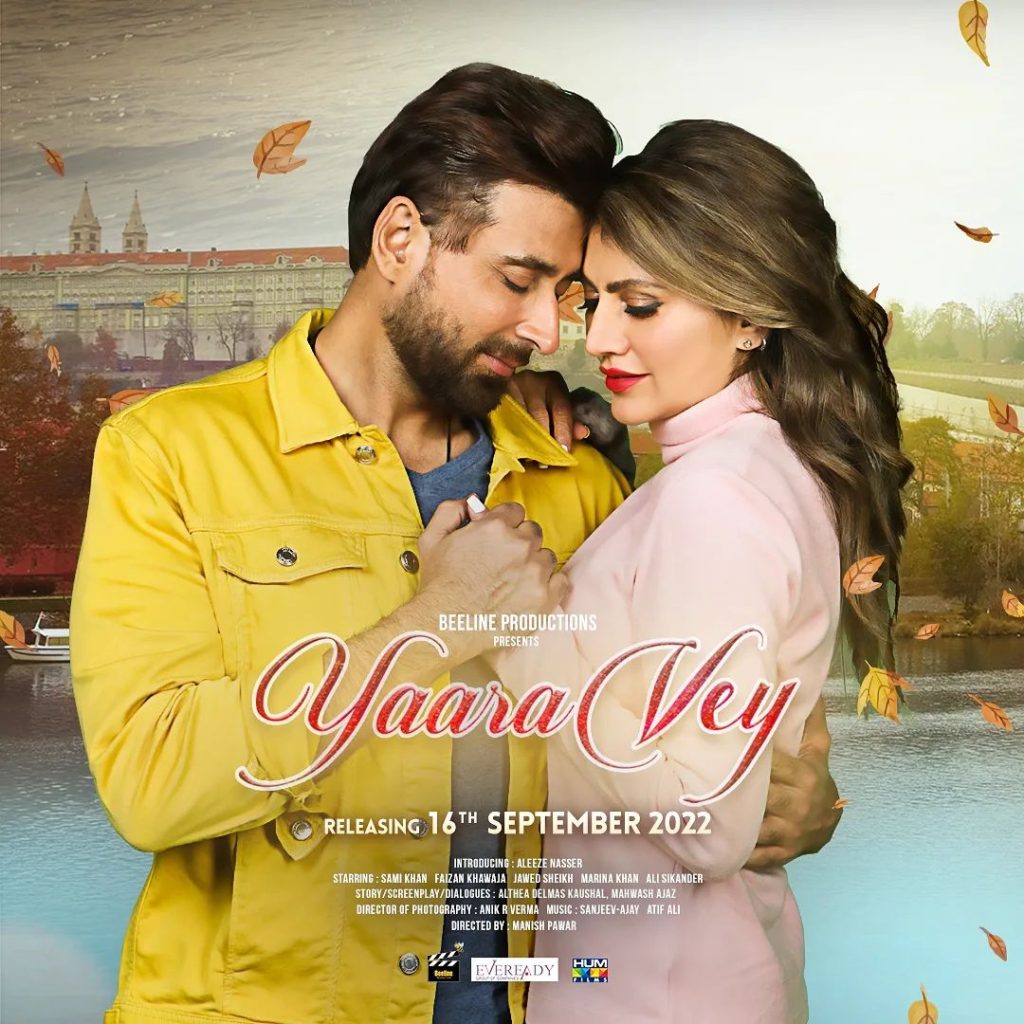 The Aulaad star revealed that the makers of this forthcoming film haven't yet paid her the amount that she was promised. Khan added that she could obtain a stay of execution on the film's release, but she is too lazy to do so.
However Marina's dues were cleared by the producers after she took the matter to social media.