Actor Adnan Siddiqui is currently enjoying the positive feedback to his home production, Dum Mastam, featuring Imran Ashraf and Amar Khan.
While promoting his film, the Mere Paas Tum Ho star exclusively opened up on his interesting interaction with his costars Brad Pitt and Angelina Jolie after wrapping up their Hollywood film, A Mighty Heart.
He revealed earlier that while chatting casually after their wrap-up, Adnan expressed his desire for there to be a kissing scene between him and Jolie in the film, in front of the entire cast.
Actor Momin Saqib hilariously added that, "Angelina kay pati dev wahan thay, aur inho ne ashleel baatien shuru kardi."
Earlier he also shared details of the incident on Tonite With HSY.
Brad took it jokingly and just laughed it off whereas Angelina gave him a sly smile. The Salt diva also took it as a spirited joke.
In 2021 he shared throwback photos with Angelina and Brad Pitt from a party at Taj Mahal.
He wrote, "What are the odds that some bygone treasures will pop up on my phone memory a day after I mused about what memories leave in their wake when they come calling!"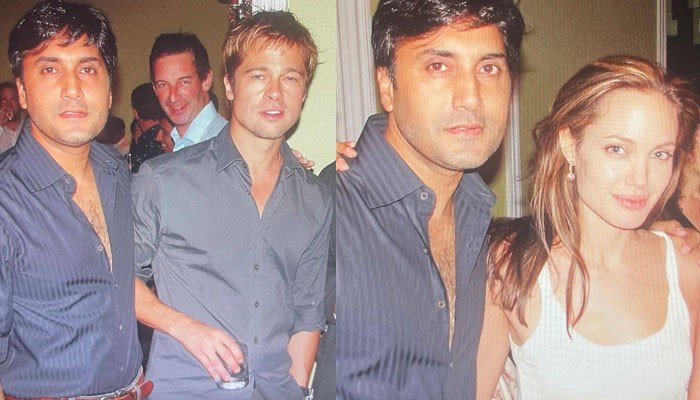 "A Mighty Heart will always hold an indisputably prized place in my heart for professional and personal reasons," he referred to the film with Angelina Jolie.
"Looking at these photographs, I suddenly have an overwhelming urge to go back in time at The Taj Mahal Palace, Colaba and relive the glory days."
The film was directed by Michael Winterbottom and was co-produced by Brad Pitt. The project also starred the late Irrfan Khan and released in 2007.