Film producer-journalist Reham Khan took to her twitter handle to take a jibe at her ex-husband, Imran Khan. She re-shared his viral video in which the former PM can be seen fixing his hair.
Actor-host Mishi Khan called out Reham for her remark by saying that she won't get another chance (of being his wife).
Earlier Mishi slammed the Janaan producer for her statements against showbiz celebs extending support to the former Prime Minister.
The Nikaah star turned to Twitter to call out Reham for terming the showbiz celebs as 'mummy daddy actors', as the latter blamed the entertainment fraternity for not 'raising their voice against Kashmir issue the way they are doing so against no-confidence vote'.
In a video message shared by Khan on the micro-blogging site, she asked the journalist, "Why didn't you take that step and supported Kashmir? Whom were you waiting for?"
"You are always available to dictate us actors but when the Kashmir issue surfaced you were giving weather reports at BBC, teaching Salsa steps, and was busy with your luxurious foreign lifestyle," she further remarked.
"We are aware of the Kashmir issue and doing the needful for the cause, you shouldn't preach us."
Furthermore, dubbing Reham as 'speedy Gonzalves', the 'Janaan' actor said in the video, "On behalf of the actors' fraternity, we have all the right to support whoever we want to. You should continue with your job of recording irrelevant videos at National Assembly which is actually prohibited, and let us do ours."
Her message was followed by Reham's reply who snubbed Mishi by asking netizens if she is the same friend of Imran Khan whom, Reham casted in Janaan in the role of Hania Aamir's paternal aunt?
"Oh isn't she that friend of Imran I cast as the phuppo (aunt) in my film Janaan?"
Reham's tweet rubbed Mishi the wrong way and she replied to it in another video.
Earlier the Ghazi Shaheed star took to her Instagram stories to slam Neelam Munir's dance moves in her latest song Chirya from Yasir Nawaz's Chakkar.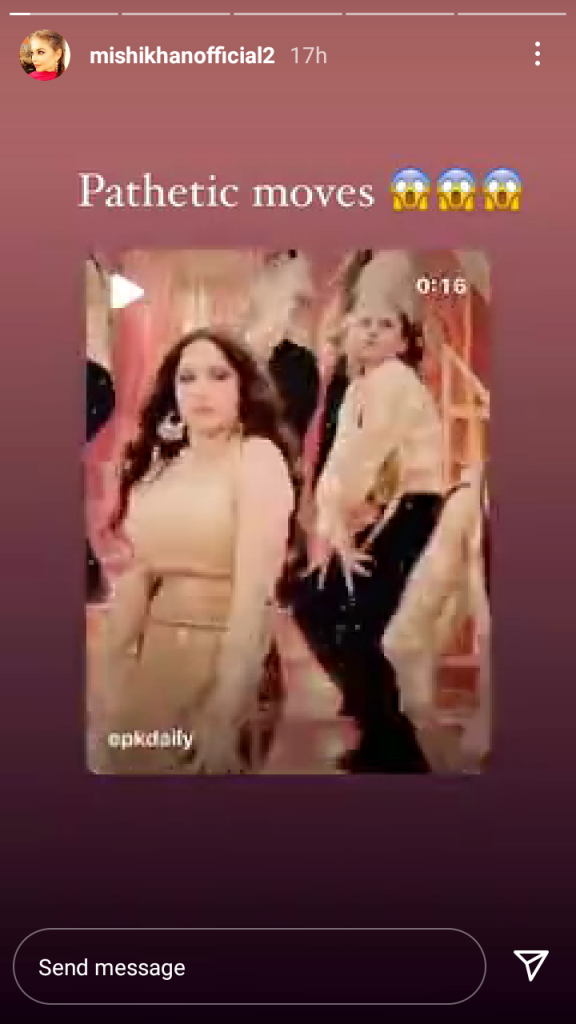 The Qaid-e-Tanhai star has turned into a dancing diva for her forthcoming film in which she plays a double role.