Bollywood dancer and reality television star Rakhi Sawant recently announced her marriage with Bangalorean Muslim entrepreneur and model Adil Khan, which was ritually performed in May 2022.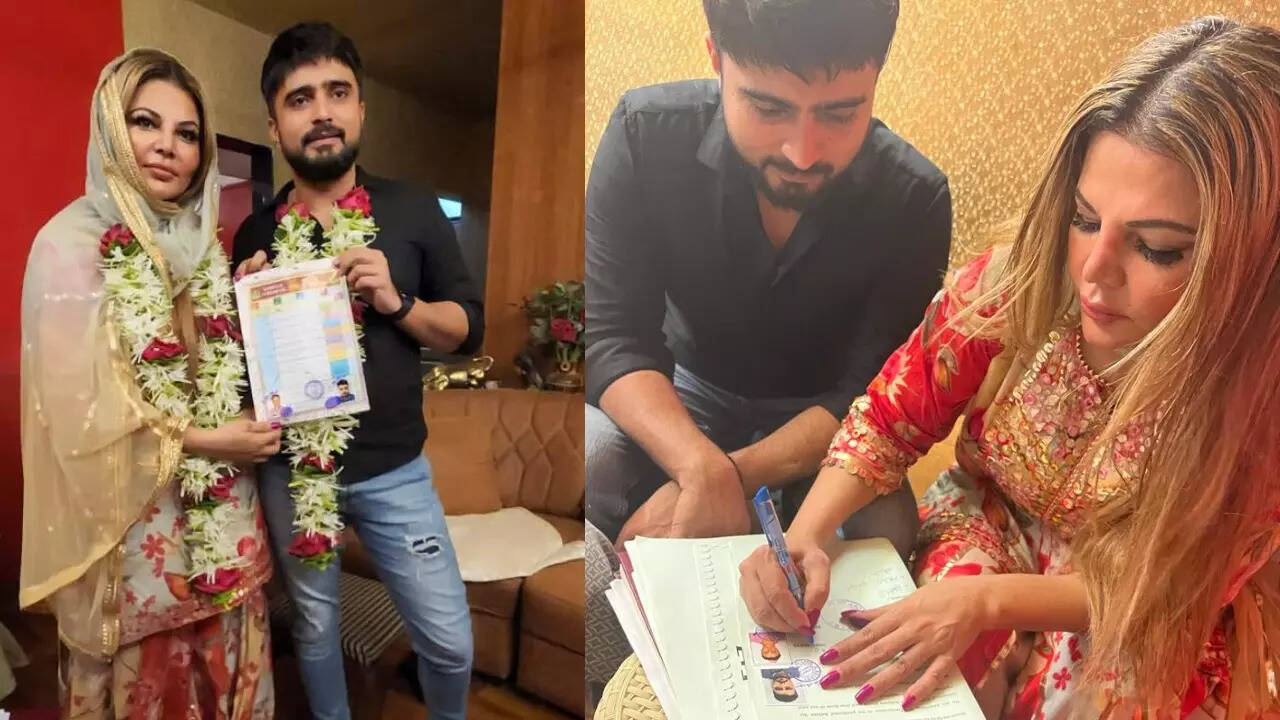 The actress got married to her boyfriend as per Muslim customs. However, when the media contacted Adil, he called the marriage 'fake' and denied the reports. After learning about his reaction, Rakhi was left heartbroken and started crying in an interview.
"He asked me not to reveal the marriage for a year because of his sister's wedding. I trusted him and went to Bigg Boss Marathi 4 house."
"When I was in the Bigg Boss house, many incidents happened outside the house, which were unacceptable for me. Hence, I shared pictures of our wedding on social media. I was very scared. He loves me a lot but why is he denying my marriage? He must be getting pressure from his family," Rakhi added.
She further added, "I did halal instead of haraam. Many people do 'haraam' but I did 'halal'. I am not wrong."
Sawant started crying and said, "My mother is hospitalised. She has brain cancer. I am worried for her. Adil has not been speaking with me since morning. You can ask him why he is not speaking with me. I don't why such bad things are happening to me. Why why why?"
Adil's Announcement
After days of silence, Adil Khan has now confirmed that they, in fact, have been married since last year and that he had maintained silence on the matter as he had some issues to take care of. Now, sharing a wedding photo of the couple, Adil said: "So here's an announcement finally,I never said I am not married to you, Rakhi. Just had to handle a few things so had to be quiet, happy married life to us Rakhi (pappudi). " Rakhi Sawant replied to the post saying: "Thanks jaan lots of love."
Actresses Devoleena Bhattacharjee and Ankita Lokhande congratulated the couple.
While Rakhi Sawant shared the news of her wedding last week, no such confirmation came from Adil's side, leading to rumours that there may be trouble in paradise. After days of silence, Adil to ETimes, "Well, yes, Rakhi and I are married. We are living together and happy." However, when asked whether his family had accepted Rakhi, he said, "Woh process ab bhi chal rahi hai (it is an ongoing process). It will take some time." 
Rakhi's Response To Adil's Acceptance
After Durrani confirmed his marriage to the reality TV queen on Monday, the couple was papped recently in Mumbai where she claimed that her 'bhai' Salman Khan called Adil when the latter reportedly refused to accept her.
During her latest interaction with the media, Rakhi thanked Salman for helping her. "Bhai ka phone aaya tha inko… Mere bhai Salman ne mera ghar basa diya (Salman Bhai called him, he saved my marriage)", she said.
The Krazzy 4 star was earlier captured behind the scenes of a photoshoot, during which Sawant said that she will completely stop wearing revealing dresses because it's not allowed in Islam.
Rakhi previously converted to Christianity from Hinduism in the mid-2000s.
Earlier in an interview, the dancing diva revealed that Adil has gifted her a BMW car and a lavish home in Dubai. "Adil has bought a house in Dubai in my name. The other day, he'd gifted me a BMW. But frankly, my treasure is his love. His love is true. He is a loyalist. He is very serious about me, else which guy introduces his love so early to his family?",
She recently traveled to Dubai to meet Adil's family members, which signals the fact that their relationship is just getting more serious by the day.
Last year she announced her separation from her ex-husband Ritesh Singh via social media post. In her statement, the actor had said that she was 'really sad and heartbroken'. It was during Bigg Boss 15 show when Rakhi introduced Ritesh for the first time on national television.
Ever since the news of her wedding came into the picture fans were quite excited to see who her husband is. Later when Ritesh and Rakhi entered Bigg Boss 15, fans could not keep calm as finally the mystery around her husband was lifted. But after being together and facing so many ups and downs the couple has parted ways. Today in an Instagram post, Rakhi shared a long note announcing her separation.
In a press interaction, Sawant stated that she is munching on sweet delicacies in depression after her husband left her.
Taking to her Instagram handle, Rakhi Sawant shared a post and wrote, "Dear fans and well-wishers, Just wanted to say that Ritesh and I have decided to part ways. After the Bigg Bos show a lot happened and I was unaware of certain things which were out of my control. We have tried to work out our differences and tried to make things work but I think it's best we both move on amicably and we both enjoy our lives separately. I'm really sad and heartbroken that this had to happen before Valentine's Day but the decision had to be made. I wish Ritesh the best in life at this stage in life I have to focus on my work and my life and keep myself happy and healthy. Thank you for understanding and supporting me always!"
Speaking with Times of India, Rakhi said crying, "He left me! I loved him so much and he left me. After Bigg Boss a few weeks ago, we started living together in my house in Mumbai, but yesterday he packed his bags and left. He said that he is in legal trouble because he didn't divorce her first wife and now he doesn't want to live with me anymore. He said that he lost an of money also in his business as he had to go through a lot of scrutiny after he entered the Bigg Boss house with me." She added that her heart broke as after coming out of the Bigg Boss house she got to know that he already has a wife and a kid. Rakhi further said the she is trying to come to terms with the fact that everything has ended.