TikToker-couple Kanwal Aftab and Zulqarnain Sikandar are grabbing headlines for multiple reasons, be it their very recent baby shower or an unfortunate robbery at their house earlier this month.
The duo went out to do flood relief work for two days in Sindh and came back home to find their house broken into, and everything from cash to jewelry stolen. Revealing the news through their YouTube channel, they said that everything got stolen, primarily jewelry and cash from their house. Even watchmen were unaware of the theft, they added.
In the vlog, they shared that the police investigation was underway.
Earlier, the couple collected money, made packages and dispatched them to flood-affected areas, not only this, the couple also visited the flood-stricken areas to meet and help the victims there.
Post the robbery tragedy, the couple had their stellar baby shower ceremony in Lahore.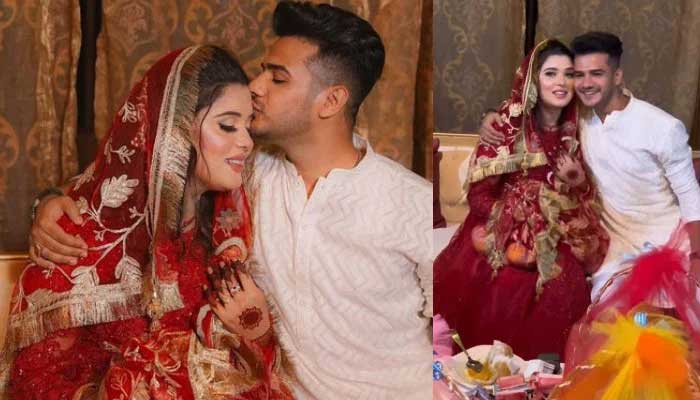 On this auspicious occasion, the couple held a baby shower ceremony (godh bharai) and shared the event's photos and videos on social media. The clip and photos went viral soon after they uploaded it.
The couple had their wedding ceremony in January this year. The pictures and videos of the couple from their special day went viral on social media.
The bride looked elegant in an Ali Xeeshan ensemble.
Have a look at the pictures:
Have a look at the pictures from their Mayun, Mehndi and Milad also: