Bollywood film Pathaan starring Deepika Padukone, Shah Rukh Khan, and John Abraham, is nearing its release, and before that, it has already gotten itself in a pool of trouble now the last jibe has been taken by the Censor Board as they have asked for more than ten cuts in the film. The film has been directed by Siddharth Anand and is helmed under the banner of Yash Raj Productions. But with time, instead of the problems getting resolved, things are becoming harder for the makers.
When the first song of the film, Besharam Rang, came out things started to go down south, people protested against the film, especially Deepika's outfit from that song. And now, when the film is all set to release, there have been reports of several changes had been suggested by the board.
According to a report in ETimes, the Censor Board has asked for more than ten cuts in Pathaan, including the song Besharam Rang. The makers have been asked to make changes in dialogues and shots. As per reports, some of the changes are the word 'RAW' has been replaced with 'Hamare', 'Langde Lulle' by 'Toote Foote', then 'PM' has been replaced by 'President or Minister', and not just that the term 'PMO' was replaced in 13 places.
As the report stated, the 'Ashok Chakra' got replaced by 'Veer Purashkar', 'ex-KGB' with 'ex-SBU', 'Mrs Bharatmata' by 'Hamari Bharatmata', and 'Scotch' by 'drink'. Then there was a text, 'Black Prison, Russia', which got replaced by 'Black Prison' only, and not to forget the song, several shots have been asked to remove from it as well. As per the report, the closeup shots of b*tts, 'side pose' [partial nudity] and the visuals of the steamy dance movements were also replaced with 'suitable shots' [during the lyrics 'Bahut Tang Kiya' in the song Besharam Rang]. Although, there has been no mention of Deepika Padukone's 'saffron bikini' getting censored from the song.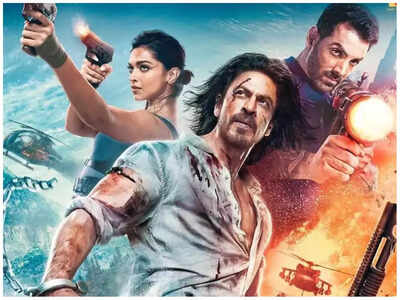 The song Besharam Rang (roughly translates to shameless colour) from the upcoming Shah Rukh Khan movie 'Pathaan' has garnered controversy since its release. Now India's Central Board of Film Certification (CBFC) has advised the makers of the film to implement changes to the song.
Since the song's release, costumes worn in the music video have been the subject of criticism, with certain Hindu clerics stating that the lyrics are an insult to their religion.
Narottam Mishra, a minister from the state of Madhya Pradesh, held a press conference on December 14 about the costumes in the music video, calling them insulting to Hindu practices, and warned the makers of the movie that 'Pathaan' would be banned in the state on its release.
'Pathaan' was submitted by Yash Raj Film to the CBFC for certification prior to being shown in cinemas. On Thursday, the chairman Prasoon Joshi released a statement requesting the makers to implement changes in the song 'Besharam Rang' to prevent controversy. The full statement read: