Actor Sarwat Gillani, in an interview with JORE, expressed her drive to flip the script on female representation in Pakistani TV and cinema. And with that, she also reflected on her earlier roles, and what all she took away from them.
"I feel as entertainers, we have a responsibility towards the kind of behaviours we encourage. Even when I was doing the satisavitri, girl-next-door, damsel in distress kind of roles, I would think to myself that there are unbelievable women doing unbelievable things, why aren't we talking about them? My struggle even then was, how much of these sob stories are we going to do?" Sarwat shared.
When Churails came to her, Sarwat felt things shifting. "In fact, even before Churails, I was always advocating for women's rights on various platforms. I felt like, I would not be able to justify a character this weak and meek anymore because I'm encouraging women to raise their voice on one end, how can I be acting like a woman who cannot do anything for herself on the other. There is a huge contradiction there."
When asked about the type of narratives women and girls need to be seeing on TV, Sarwat said, "I think our girls should be watching 26 episodes of how not to get married – because the whole premise of dramas today is whether a girl is good enough to be married or whether she will be accepted by her in-laws."
Sarwat, unabashedly continued, "Girls have improved their standards in Pakistan, they are more career-oriented, they are multi-taskers, they are wise, even if they are housewives, they take care of so many things alone, there are so many successful women who have struggled so much. Not just professionally but privately. And we aren't allowed to talk about that. Art is a beautiful medium where you can talk about the nastiest of things in the purest of ways. Like Hania in Mataye Jaan. Why aren't we talking about more realistic, more practical, more elevating content for Pakistani women?"
The actor insisted, "Why are we talking about putting down women all the time? That content won't help women. It'll only encourage [problematic] behaviour in men!"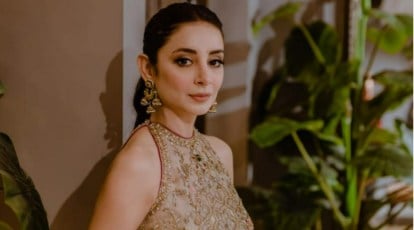 Going on to talk about how women are shown falling in love with harassers and stalkers, Sarwat urged drama makers and filmmakers to use art to instill basic values in society. "We need to talk about values and self-respect. We need to teach. I mean, media can't just be about entertainment. It's a huge responsibility. You need to teach younger people, men, how to behave around women. A man is not someone who beats his wife or stalks girls. Until we don't show what a man is supposed to be, men will continue to be how they are."
Addressing how deep-rooted misogyny is in Pakistani society, Sarwat asserted, "I think we're just social animals. We want to be in a society that is living a lie. All these women who are cheated, beaten, and harassed by men, actually support that narrative, they want to cover up the truth. So a wife is not supposed to talk about her husband's extramarital affairs in public because 'izzat ki baat hai'. So, it is completely okay for a man to cheat but it's disrespectful if a woman talks about it? I mean, all the lives you teach us that cheating is bad, lying is bad and now, you're telling us that beta it's okay, let it go… No! You're so confused."
When asked about what she thinks artists and filmmakers should do if one of them is accused of harassment, Sarwat stated, "I feel until and unless somebody is proven guilty and there's enough evidence, our court system is really messed up. But one can really tell right from wrong. And if you feel somebody has done something wrong, to anyone, I think it's your responsibility to take a stand. To not associate with such a person."
She went on to remind everyone that saying, "Hey, he's a great artist but he's a child molester,' or 'He's beaten up his wife but he's a great actor,'" is messed up. "You should not work with such people by the principal. Even in Hollywood, when the #MeToo movement started, so many female artists, A-listers, had not spoken up about these filmmakers who had harassed them. But they spoke their truth when they could and this whole movement followed."
To make it easier for those who feel one should separate the art from the artist, she added, "Art is not about hushing people, it is about expression. So, if someone is a great artist but a bad human being, it should be clear what one needs to do."
Circling back to her film, Joyland, an edited version of which was allowed to screen in parts of Pakistan, and the critical reception it received based on the edit available, Sarwat shared, "People fell in love with Joyland abroad because they saw it in its entire spectrum. Even if people didn't understand the language, the subtitles did it for them. They felt the human emotions."
Last year while promoting her Zee5 series Qatil Haseenaon Ke Naam the Ahista Ahista diva opened up about problematic content on Pakistani television.
Sarwat agreed to do QHKN because of its 'powerful scheme of narrative'. "I did QHKN after Churails because both shows are completely different."
She added, "Noir was essential. The idea of playing femme fatale seemed promising, so all of this just came together for me. And then Mehek is very different from Sara in Churails. The latter was very contained, very put together. Mehek, on the contrary, is a hopeless romantic. There's a lot of ambiguity in this character. She's stuck in a scenario that doesn't let her become the person she really wished to be."
Sarwat shared how she doesn't have any reasoning as to why the producers are unable to provide good content. "TRPs are a major problem," the actor asserted.
"Media heads need to be more vigilant of current issues. Safe storytelling is a no. There has to be progression. We have the talent; we have the actors – we have the potential to make something brilliant. Thanks to OTT, we have done it. You can't just cast the biggest star and call her '2 takkay ki aurat',"
"I did Mata-e-Jaan a decade ago. I changed some scenes from it because I didn't agree with them but I cannot change the script. I don't conform to half of the content that is airing now. It's irresponsible."
Adding to the same argument her costar Meherbano thinks that the channel owners are to be blamed. "We need people who are willing to take chances. Yes, it will be an experiment and the profits will be lesser than usual but it will be quality content," she shared
"Showbiz is a money-making business, therefore stakeholders are less inclined to take risks. We, as actors, do not have the ultimate call to change the script. If we do express some reservations, there are people who will not agree to it. The onus doesn't fall on us."